I think it's a great initiative by the club.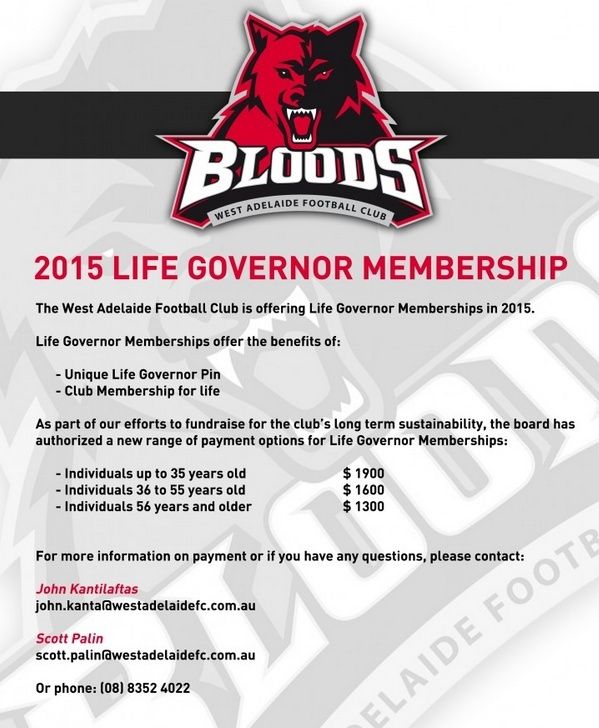 http://westadelaidefc.com.au/2015-life-governor-memberships/

firstblood




Number of posts

: 368


Location

: Salisbury Downs


Job/hobbies

: The light keeper



Do you get parking for life with it?

TAAARS




Number of posts

: 196



I'm not sure how this idea works. If I am a Gold Pass member paying $1300 a year (down to $1,000 now), but now take out life membership for a one-off payment of $1600, how does that work for the club? I'd personally rather give more money to the club, not less.

aldo russian




Number of posts

: 830



Its not life membership it just a on of payment to be a member of the club with no fees to pay
Life membership is for people who give their time to the club such as player's and officials

blacky




Number of posts

: 164



Yeah I should have said life-time membership, I understand the distinction blacky. Still don't see how the sums add up though.

aldo russian




Number of posts

: 830



Aldo I think you may be an exception to the rule.

Most Gold Pass members attend 10 home match lunches & get a car park in the Northen end plus free access to the Westonians room at half time & after the game. In your case you don't enjoy these benefits due to your location & inability to attend more than once or twice a year.

A Life Governor does not receive any benefits other than not ever having to worry about or pay an annual subscription for the remainder of their life.

The Life Governorship has been offered before in the club. In fact there are already several members who took it up in about 1990. It is a way of obtaining a lifetime of annual membership subscriptions upfront which helps the clubs cash flow. If my memory serves me correctly it cost about $1000 in 1990 to become a Life Governor.

I personally know that the club appreciates your continued support and financial contribution which also goes beyond a Gold Pass.

Sometimes we don't want to try to work out the value in our financial offerings to the club because we could never really justify it. We just do it to help the club we love. Don't tell my wife!!!!!!

Mypaspective




Number of posts

: 345



Incidentally I forgot to mention in my above post that the club is hoping to maintain its list of Gold Pass members & Westonians as this offer is targeting the devoted members who may have the money to avail themselves of this opportunity.

I also forgot to say that the Gold Pass includes a Season ticket & a grand stand seat.

The Club is willing to accept time payment over 12 months for the Life Governorship. Anyone interested please contact John KANTILAFTAS & he will be more than willing to oblige.

Mypaspective




Number of posts

: 345



Thanks MP. I should say though that my concern is not myself, but rather whether a Life Governorship will mean fewer ongoing Westonian/higher end memberships even though you don't get the benefits of Westonian membership.
I guess the hope is people will give to the club what they can.

aldo russian




Number of posts

: 830



I don't think that this category of membership should negatively impact the Gold Pass & Westonians members

It is my belief from feedback that the GP & W members think that we provide great value for money with those offerings & don't want to miss out on the privileges so hopefully they will continue as normal.

Kanta has had some interest in the Life Governorship already which is fantastic.

Mypaspective




Number of posts

: 345



Went in yesterday and arranged my Life Governorship

_______________________________________________________________________________________________________________________
Life long passionate supporter

Oldfella




Number of posts

: 694


Job/hobbies

: Retired due to severe clinical depression




Mypaspective




Number of posts

: 345



---
Permissions in this forum:
You
cannot
reply to topics in this forum