I see The Advertiser has us finishing 10th this year. I hope this is a good omen as they also said this in their 2015 preview of the season. I think we will be much better than that. Looking forward to the start of the season.

The Axis




Number of posts

: 47



Might be worth putting $10 on Westies with Sportsbet. You never know.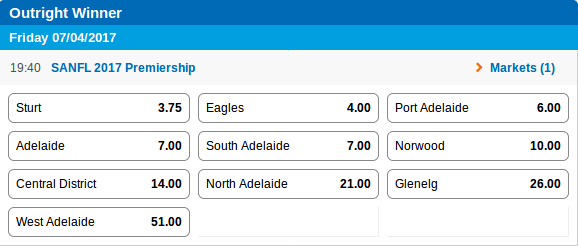 firstblood




Number of posts

: 378


Location

: Salisbury Downs


Job/hobbies

: The light keeper



Those odds look like they've been based on last year's ladder and nothing else.

aldo russian




Number of posts

: 837



We can't be as bad as last year.
We need a better run with injuries like in 2015..
We need someone up forward to kick some goals.
Can Green and Fielke find form again?
Do we have anyone from the 2s that will break into the league team this year and have an impact?


Wolf Pack




Number of posts

: 369



From what I've seen so far, WP, we look to have more options up forward this year. Lachie Peter has been good and Zac Bates and Izak Rankine will give us skill and pace.

In the ruck, Tyler McPherson has shown huge improvement. Around the packs, Jacob Carger will add strength and good kicking.

Needless to say, Tom Keough and jake wilson will strengthen our defence considerably.

Several players who were down last year are looking much, much better.



Lee Harradine




Number of posts

: 1316



I went to training the other night for the first time in a while and was impressed with the players condition and body strength, skills seemed to be on par and the general approach seemed to be upbeat and confident.

Realise there is a big strep between looking good at training and performing in a real game but based on what i seen i believe we will be very competative at minimumn.

Will be interesting observing individual performances durkng the preseason trqil game as i believe the coach will be doing a lot of player movement to assertain team options -- will not be greatly worried win or loss as is not the reason for preseason imo

_______________________________________________________________________________________________________________________
Life long passionate supporter

Oldfella




Number of posts

: 705


Job/hobbies

: Retired due to severe clinical depression



I think injuries will play a crucial part in how we go this year.
I think our best 21 is competitive however we may lack depth.

I'm wanting to find another Key Marking Forward that will stand up and
Ease the pressure on Middleton. We haven't had 2 marking forwards for
far too long.

We have also lost O'Brien and Tuck through the midfield and they haven't been replaced. Porps is like a new recruit however at the age of 32 is he best served playing at half back. Players such as Bates, Agostino,Haysman,Wasley-Black, Helbig and Silverlock need to take the next step for us to be successful. Also I think McPherson will need to take on the league Ruck duties which is going to be a difficult task for one so young.

I hope young Watchman can overcome his latest injury setback to his shoulder and becomes a very influential key forward which I think he can. I wouldn't be playing him in the ruck given his injury problems.

Lachlan




Number of posts

: 659



---
Permissions in this forum:
You
cannot
reply to topics in this forum